Questions / Answers
How to order a 3TECH product?
To order a 3TECH product, simply click on one of the logos of our exclusive distributors, at the bottom right of each product page.
What type of activity is this range aimed at? Does it target a particular mode of exercise?
The range is designed for all types of activities: general practice, prosthesis, endodontics, orthodontics, surgery,… for an efficient and profitable exercise mode.
For whom are 3TECH products intended?
3TECH products are intended for all dental health professionals without exception.
Now that the prices of major brands offer interesting promotions on their small equipment, why choose 3TECH products?
Because 3TECH products will always remain very accessible, whatever the time of the year, while maintaining its requirement for the quality and performance of its products.
Will the 3TECH range be extended?
The products in the 3TECH range will gradually be developed to offer you the best products of the moment for small equipment, with always the best quality/price ratio.
Is 3TECH available quickly when ordering?
3TECH products are available according to the delivery conditions of our exclusive distributors.
How are 3TECH products selected?
3TECH products are selected from different products from various factories around the world, after comparative tests and with the best quality/price ratio.
AFTER-SALES SERVICE
During the after-sales service period, faulty products are repaired or replaced?
If it is a minor problem, the products can be repaired, depending on the policy of our exclusive distributors. Subject to its proper use in dental health.
Why does the warranty not exceed 12 months?
A 12 months warranty is quite common. Beyond that, our ultra-low prices allow you, if necessary, to replace your equipment with new equipment.
Does the 3TECH product range have an after-sales service?
3TECH products are guaranteed for 12 months.
ROTARY INSTRUMENTS MAINTENANCE
How do I maintain my rotary instruments?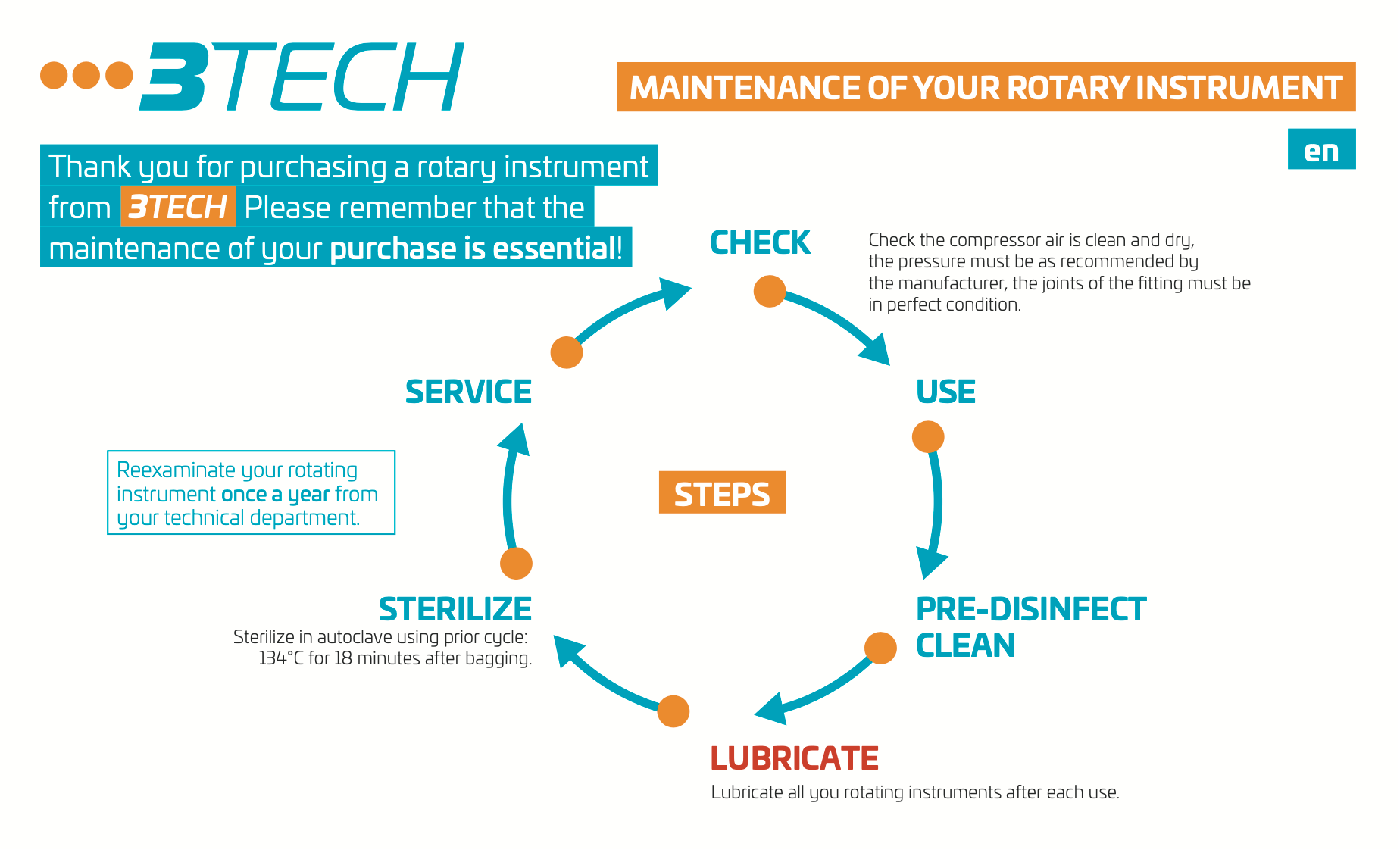 TURBINE
Can we buy the turbine without the coupling?
You can buy the turbines separately from the fitting.
On which connection does your turbine fit?
The single-use turbine fits the 4-way Midwest fitting.
The TR-720L turbine fits all Kavo Multiflex quick couplings.
Is the turbine sterilizable?
No, the single-use turbine is sterile and once the blister is opened, it cannot be re-sterilized. It has a duration of use of 4 hours.
LAMP
Can I change the battery by myself?
As indicated in the manual, you can easily change the battery of your lamp, simply separate the lamp body in half by unscrewing it and insert the new battery.
Is it possible to buy an optical fiber?
Fiber optic is available as an accessory.
GUTTA-CUTTER
Is the Gutta-Cutter rechargeable or does it work with batteries?
This product is composed of an internal battery, is rechargeable on mains.